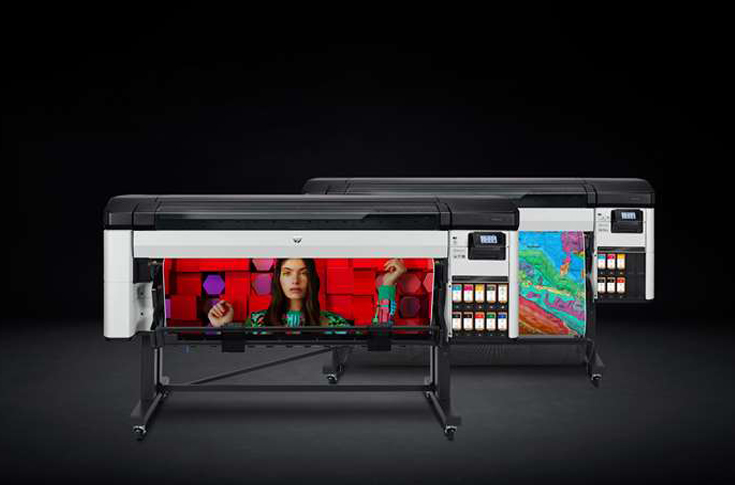 HP expands DesignJet and PageWide XL portfolios
HP has announced new DesignJet and PageWide XL Pro printers that use pigmented water-based inks and offer improved photo and color quality, improved precision, sustainability improvements and new uses.
The DesignJet Z6 Pro and Z9 + Pro can produce professional-quality prints in photo quality
From October 1st, the HP DesignJet Z6 Pro and Z9 + Pro will be available in stores, with which professional prints in photo quality and high-precision, colorful maps generated by the geographic information system (GIS) can be created.
To mark the 30th anniversary of the first DesignJet product, the new machines will replace the existing DesignJet Z68 printer family.
They use chromatic RGB HP Vivid Photo Inks, which according to the manufacturer enable a Pantone coverage of 93% – 26% more color space compared to the previous generation, while prints with the image quality of a 12-ink printer with nine. can be made inks.
Additional features include High Definition Nozzle Architecture (HDNA) printheads and dual drop technology, which reduces visible grain and eliminates the need for light inks.
The DesignJet Z9 + Pro, which according to HP "offers the broadest color space in its category", is aimed at companies looking for a professional printer in photo quality.
Users can customize ICC profiles for their print jobs and achieve the desired color accuracy and consistency. Users also have the option to add the HP Gloss Enhancer Upgrade Kit "for superior gloss uniformity."
In addition, users can use the HP PrintOS Mobile App to monitor performance, respond to problems, and remotely share media preferences.
The new device also includes the cloud-based HP PrintOS Service Center application, which enables users to get a single, real-time view of all ongoing service cases with updates that can be accessed anytime, anywhere.
The DesignJet Z6 Pro, on the other hand, is aimed at GIS analysts who want to create very precise maps, print sharp contours and text, while strictly adhering to data security.
The Adobe PDF Print Engine is said to enable "excellent transparencies and layer reproductions", while HP's HDNA printheads and HP Pixel Control deliver high precision, smooth gradients and clear color shading, which are particularly required for printing complex maps.
The DesignJet Z6 Pro also promises "best data protection" through encrypted communication and an access control list. Additional features include HP Connection Inspector, HP Secure Boot, and whitelisting to ensure the best network protection.
Regardless, the commercial availability of the three new PageWide XL Pro printers from HP will begin on September 15th.
The manufacturer said these machines, which complement its existing portfolio, will allow users to take advantage of new applications in the short term, including the potential to print on cardboard, paperboard and paper from A2 to B1 and up to 10mm thick.
The PageWide XL Pro 5200 and the PageWide XL Pro 8200 offer print speeds of up to 20 D / A 1 ppm. and 400 m² / h or 30 D / A 1 ppm. and 500 m² / h.
The PageWide XL Pro 8200 can print mixed editions of CAD drawings and presentation boards, while the PageWide XL Pro 5200 and PageWide XL Pro 8200 can both be used for two-sided, short-term retail posters. Both printers use up to three liters of original HP Eco-Carton ink cartridges.
The compact PageWide XL Pro 10000 can now produce up to 700 m² or 1,000 B1 posters per hour and print on materials of various sizes, from paper and cardboard to cardboard and single sheets. The device offers instant drying prints on compatible substrates.
The PageWide XL Pro 10000 also features HP's first large-format automatic paper feeder and a versatile stacker.
"As our customers continue to struggle with uncertain business conditions after the uniquely challenging years of recent years, we know that expanding their reach of print applications, the ability to act quickly, and outstanding color and graphics performance define their requirements for large format printing." said Daniel Martinez, general manager of HP Large Format Business.
"For this reason we are introducing the new HP DesignJet Z Pro and HP PageWide XL Pro series. Both portfolios are designed to help users cope with uncertain demand, respond to tighter deadlines, and unlock untapped potential in their own offerings. "
/ news / hp-expands-designjet-and-pagewide-xl-portfolios-55148
HP expands DesignJet and PageWide XL portfolios

https://www.printweek.in/Utils/ImageResizer.ashx?n=http://img.haymarketsac.in/printweek/3629eda2-e4f8-471c-bed0-6b1b3e50efd2.jpg