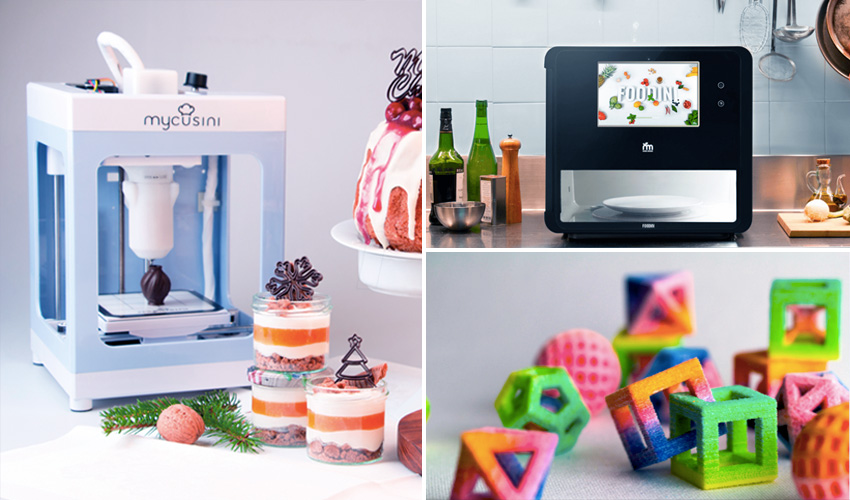 The ten food 3D printers you should know
3D printing materials are becoming more diverse, but when we talk about additive manufacturing we often think of plastics or metals. But today we wanted to focus on something completely different, namely the food. And yes, some 3D printers allow the production of sweets, pastries, chocolates, pizzas and dishes of all kinds. A food 3D printer allows more freedom and creativity in the kitchen and in some cases can even reduce food waste. Even if we are not yet convinced that these devices will replace our ovens and microwaves, they still have interesting potential for everyone who likes to cook. In this list we introduce you to food 3D printers that are already in use!
Focus 3D printer – byFlow
The food tech company byFlow specializes in 3D printing chocolate. In order to print on the notoriously tricky ingredient, the company developed Focus, based on a patented technology, to design all kinds of chocolate pieces. ByFlow provides you with the online Chocolate Design Studio, with which you can create your own chocolate designs in just a few minutes. With a fully automatic temperature control, any type of chocolate can be used. Note that you can also design other sweet or savory foods with this 3D printer. ByFlow also opened one of the first restaurants to incorporate a 3D food printer.
WiibooxSweetin
The WiibooxSweetin food 3D printer is a printer that combines precision, quality and creativity and is designed for professional use. The machine is also easy to use. All users need to do is download the 3D model files to the device and start printing. The printing materials? There is (really) something for everyone: chocolate, cheese, mashed potatoes, beans, caramel, honey, jam, cookies. The printer has a real-time temperature control device that ensures food is perfectly sealed. The technology used is Fused Deposition Modeling (FDM), includes different nozzle types and is compatible with .stl .obj. amr files.
SMRC's 3D printing system for space
When people think of 3D printed food, it is mostly projects for people on earth. But that's not always the case. Step inside SMRC's 3D printed food system, developed in partnership with NASA to produce food for long-term space missions. The company aims to use 3D printing to create foods that have interesting flavors while also containing nutritional supplements that trigger nutrient breakdown through long-term storage. Essentially, the system dispenses viscous foods made from powder and ingredients that you have already successfully used to make cheese pizza. They hope to provide astronauts with a healthy diet.
nfood by Dovetailed
The result of a hackathon, nūfood is the world's first liquid-based 3D food printer and was developed by Dovetailed. The company isn't sure exactly how 3D printing technology works, but the result is essentially edible, 3D-printed taste bubbles like the printer "Offers the possibility of preparing juicy bites in a variety of shapes, flavors and colors if required." Users can simply tap the available app, fill in the flavors and then print, with 3D flavored sausages ready in minutes. In addition, the ingredients are high quality and vegan-friendly and range from savory to sweet. The printer is available to rent for events in the UK on their website, but it also indicates that it is ready for commercial production.
mycusini® 2.0
This chocolate 3D printer is definitely stealing the show from other kitchen gadgets! The mycusini® 2.0 has been expanded to include interesting features since its predecessor and represents the latest generation of the machine. The first thing that catches the eye is the timeless design in combination with pink elements. But the device is not only a real eye-catcher in terms of appearance: the mycusini® 2.0 has an integrated library with over 1,000 objects that can be called up via the 3.5 ″ color touch display including an object preview. If you want to design your 3D objects yourself, you get free access to the mycusini Club. Objects can be printed with the supplied Choco Refills with a size of up to 90 x 90 mm. The removable platform enables easy cleaning of the device. The device is available at the special price of 758.70 euros on the manufacturer's website.
Choc Creator V2.0 Plus
Following the success of the Choc Creator V1 and V2 devices (which are no longer sold), the Choc Creator V2.0 Plus is the optimized version of the Choc Edge chocolate 3D printer. The device scores with a larger design area of ​​180 mm x 180 mm x 40 mm and enables the production of creative chocolate creations with fine lines from 0.8 mm wide. Common STL files can be used, which are transferred directly to the device with a USB stick. Two 0.8 mm metal nozzles are included and the machine is supplied with pre-installed, print-ready 2D and 3D G-codes, which make the Choc Creator V2.0 Plus immediately ready for use. The machine can be purchased for around 3,350 euros.
Foodini, the ultimate 3D food printer
Foodini is certainly one of the most popular 3D food printers today. It is a kitchen device developed by Natural Machines that enables food customization and 3D printing. They claim that this solution will make it possible to eat healthier dishes, improve kitchen efficiency, and reduce food waste. The competitive advantage is that users can prepare all kinds of dishes with their own natural and fresh ingredients. In terms of usability, the Foodini stands out for its ease of setup and interaction when working with the machine. From loading the stainless steel capsules to interacting with the large touchscreen, Foodini guides the user through every step of the process. What better way to get started with food 3D printing?
Brill 3D Culinary Studio, 3D printing in the culinary art
Brill Inc. and 3D Systems have teamed up to develop an innovative new additive manufacturing system that aims to revolutionize the art of cooking. This professional, full-color 3D printing technology is the result of several years of collaboration and offers culinary enthusiasts the unique opportunity to create original, bespoke dishes, figurines, garnishes and anything else they can imagine. The 3D printing process requires users to first separate the wet and dry ingredients so the machine can mix them with automated precision and then create the models layer by layer. This system includes the software from 3D Systems, the Brill 3D Culinary Printer machine and finally the powders and binders that allow the production of an unlimited range of original creations.
Procusini 5.0
The Procusini 5.0 food 3D printer was developed by the German company Print2Taste and is based on an extrusion process. With a pressure plate of 25 x 15 cm and a weight of only 9 kg, it can be easily transported and integrated into the kitchen. Today it is considered a machine for the restoration professionals. It offers automatic calibration and connectivity via an SD card. It is a printer that has cartridges that can be heated up to 60 degrees, which are easy to clean and easy to change. The Procusini 5.0 user can access the Procusini Club, which allows them to download more than 1,000 templates, logos, messages, etc., as well as receive tips and tricks.
The Mmuse Food 3D printer
Behind the machine of the same name is the Chinese manufacturer Mmuse, which specializes in chocolate extrusion. It is a food 3D printer with a print volume of 160 x 130 x 150 mm, a nozzle of 0.8 mm diameter and a printing speed of 30-60 mm / s. The Mmuse printer uses cocoa beans, which it melts, all in a controlled environment in terms of temperature. It also includes a touch screen for ease of use for the user and to monitor their prints in real time. Today, this grocery 3D printer starts at $ 5,700.
What do you think of our list of food 3D printers? Let us know in a comment below or on our Linkedin, Facebook and. to know Twitter Pages! Don't forget to sign up for our free weekly newsletter here, the latest 3D printing news delivered to your inbox! You can also find all of our videos on our YouTube channel.