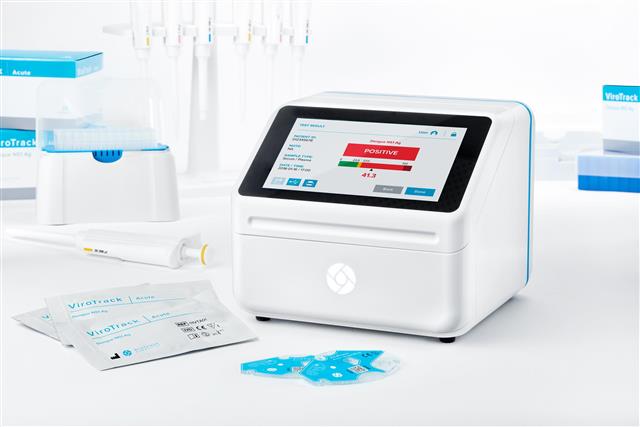 With a sensitivity and specificity that can compete with that of central laboratory devices, BluSense Diagnostics enables fast and highly precise virus screening
With a sensitivity and specificity that can compete with that of central laboratory devices, BluSense Diagnostics enables fast and highly precise virus screening
As the COVID-19 pandemic continues to devastate countries around the world, screening has become a necessary weapon to fight the epidemic. However, the test methods currently in use require professional processing and results are only available after at least four hours. In response to this problem, BluSense Diagnostics developed BluBox, a portable medical test platform that eliminates the need for sample preprocessing and cuts test time to just six minutes.
As Jessie Sun, president of BluSense Diagnostics stated, COVID-19 virus testing is just one of the uses of BluBox and that the device can be widespread in a number of other infectious diseases, including the world's two most devastating infectious diseases, dengue, fever and zika. The above two represent the main areas of research for BluSense Diagnostics, and the company has partnered with research institutes and medical institutions in Taiwan and abroad to introduce the test technology and device to regions most affected by the two diseases protect the health and wellbeing of local communities.
"Founded in 2014, BluSense Diagnostics is a rare multinational startup in Taiwan based on an academic collaboration between Academia Sinica and the Technical University of Denmark," said Sun. In the early stages of research and development, BluSense Diagnostics received support from the Department of Science and Technology's germination program and Quanta Storage. The company strives to optimize the procedures and effectiveness of tests for infectious diseases through the use of new technologies. It currently operates out of both Taiwan and Denmark, with the former focusing on hardware and software and the latter on biotechnological research and development.
The three main advantages of BluBox – high precision, easy portability, and simplified procedures – result in faster testing
From the beginning, BluSense Diagnostics has focused on testing for mosquito-borne infectious diseases with dengue fever and Zika virus as the two main areas of focus, according to Sun. "The fact may not be cited often, but according to the WHO, up to 390 million people worldwide become infected with dengue fever each year. This is a disease with a significant death rate, "Sun said. She explained that although the recovery rate is relatively high from initial infections, secondary infections lead to a higher risk of serious illness with a death rate of 20% if the illness is not treated immediately. Therefore, the focus of preventive medicine is on determining whether there are antibodies in the human body. If IgG antibodies are already present, the patient must be treated further. The technology can also be used to quantify antibody levels in patients infected with COVID-19. Aside from determining whether the patient has been infected with the COVID-19 virus, tests can be used to track contact history and periodically increase in vivo antibody levels in people vaccinated with COVID-19 vaccines track to check for antibodies after vaccination.
Sun pointed out that there are currently three methods of infectious disease screening including the use of the large laboratory-grade equipment mentioned above, screening stations set up in public spaces, and portable testing equipment that can be used to conduct tests in any location. Each of these approaches has its advantages and disadvantages; Large devices, for example, offer high precision, but testing is complicated and tedious, while rapid screening drastically reduces testing time but provides questionable precision with test results prone to human error. Handheld devices, on the other hand, are a mix of both, as testing is still mostly done by professionals and testing time is still over an hour.
However, BluSense Diagnostics has developed a product that combines the advantages of all three approaches mentioned above. With the BluBox, a portable IVD device, and ViroTrack, cartridges with nanoparticles and microfluidic structures, tests can be performed with just a drop of blood within six minutes. No preprocessing is required, and both sensitivity and specificity are over 90%, which is comparable to that of large equipment in central laboratories. Jessie emphasized that BluBox not only offers exceptional sensitivity and specificity, but is also easy to use by non-experts. Because it is small and portable, it can be used in a wide variety of locations aside from medical facilities, including airports and ports, where on-site testing is essential.
Outstanding performance, international verification and unlimited future business potential
BluSense Diagnostics has completed multiple clinical studies around the world and through these studies has collected data on a large number of specimens that are compatible with test results generated by large scale enzyme-linked immunosorbent assay (ELISA) equipment. In terms of marketing, Europe and Southeast Asia are the two main target markets for BluSense Diagnostics. The products are marketed and sold through regional distributors who provide local hospitals and dealers with fast, convenient, and high-precision testing equipment.
BluBox's excellence has come the focus of attention from the global medical industry, and Jessie attributes this not only to the dedication of the BluSense Diagnostics team, but also to the crucial support provided by the Taiwan Tech Arena (TTA). According to Jessie, most academic research teams previously hesitated to get involved in entrepreneurship due to the lack of momentum in Taiwan's startup environment. After the government's active efforts to promote startup culture, Taiwan now has a startup ecosystem similar to that in Europe and the US, with sufficient resources and funding. "BluSense Diagnostics, for example, has been able to build partnerships with foreign companies with the help of TTA and gain media exposure, which have contributed significantly to our growth." Going forward, while BluSense Diagnostics continues to invest in research and development, it will expand the application of its products to bring the best testing solutions to the market.
(Editor's note: The original article was published in Issue 7 of TTA magazine. Read more startup stories in TTA magazines.)
BluBox from BluSense Diagnostics.
Photo: BluSense diagnosis